Intel marked one of the most important product launches in company history with the unveiling of 4th Gen Intel® Xeon® Scalable processors (code-named Sapphire Rapids), the Intel® Xeon® CPU Max Series (code-named Sapphire Rapids HBM) and the Intel® Data Center GPU Max Series (code-named Ponte Vecchio), delivering for its customers a leap in data center performance, efficiency, security and new capabilities for AI, the cloud, the network and edge, and the world's most powerful supercomputers.
Working alongside its customers and partners with 4th Gen Xeon, Intel is delivering differentiated solutions and systems at scale to tackle their biggest computing challenges. Intel's unique approach to providing purpose-built, workload-first acceleration and highly optimized software tuned for specific workloads enables the company to deliver the right performance at the right power for optimal overall total cost of ownership.
Additionally, as Intel's most sustainable data center processors, 4th Gen Xeon processors deliver customers a range of features for managing power and performance, making the optimal use of CPU resources to help achieve their sustainability goals.
"The launch of 4th Gen Xeon Scalable processors and the Max Series product family is a pivotal moment in fueling Intel's turnaround, reigniting our path to leadership in the data center and growing our footprint in new arenas," said Sandra Rivera, Intel executive vice president and general manager of the Data Center and AI Group. "Intel's 4th Gen Xeon and the Max Series product family deliver what customers truly want – leadership performance and reliability within a secure environment for their real-world requirements – driving faster time to value and powering their pace of innovation."
Unlike any other data center processor on the market and already in the hands of customers today, the 4th Gen Xeon family greatly expands on Intel's purpose-built, workload-first strategy and approach.
Leading Performance and Sustainability Benefits with the Most Built-In Acceleration
Today, there are over 100 million Xeons installed in the market – from on-prem servers running IT services, including new as-a-service business models, to networking equipment managing Internet traffic, to wireless base station computing at the edge, to cloud services.
Building on decades of data center, network and intelligent edge innovation and leadership, new 4th Gen Xeon processors deliver leading performance with the most built-in accelerators of any CPU in the world to tackle customers' most important computing challenges across AI, analytics, networking, security, storage and HPC.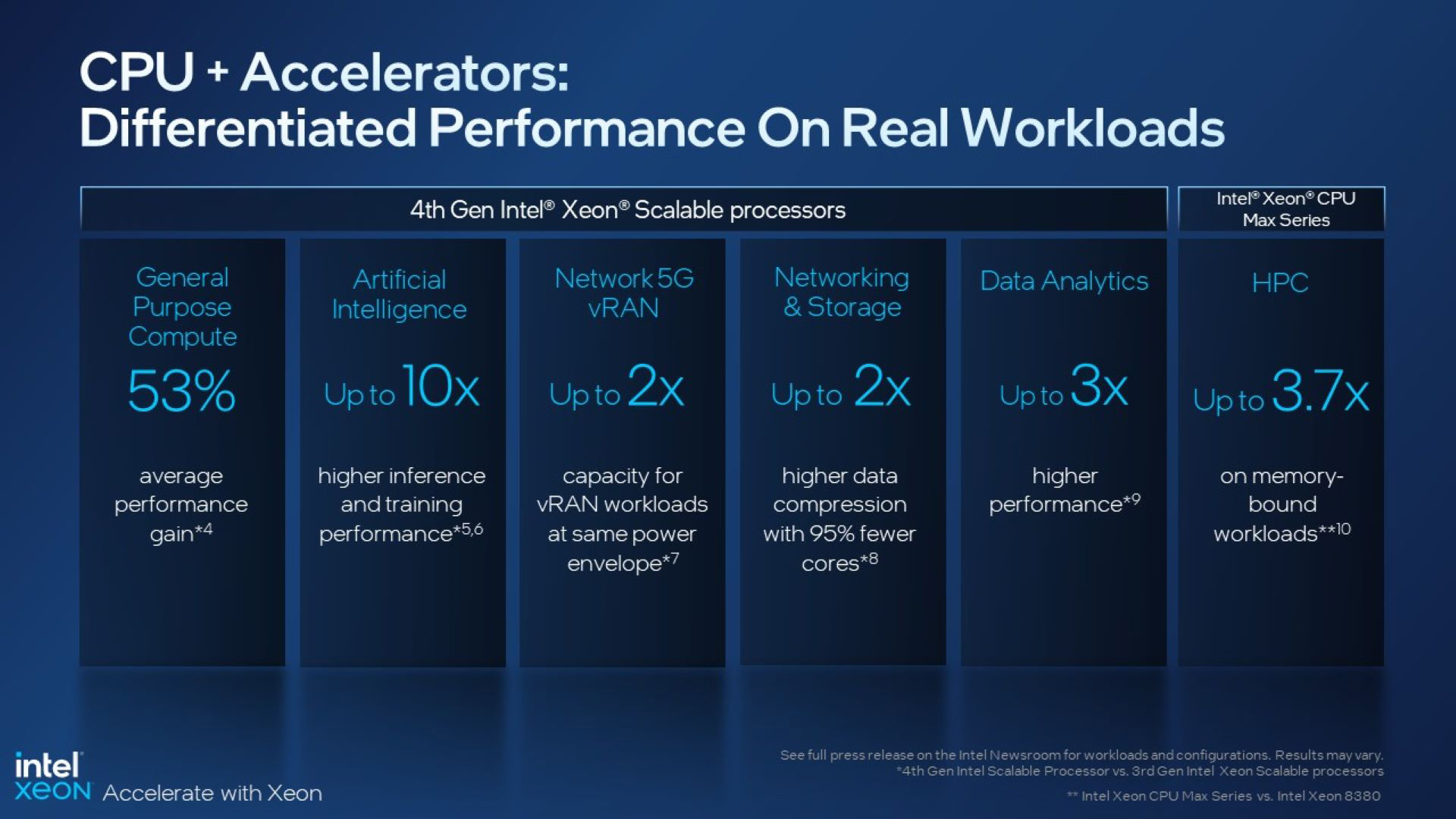 When comparing with prior generations, 4th Gen Intel Xeon customers can expect a 2.9x1 average performance per watt efficiency improvement for targeted workloads when utilizing built-in accelerators, up to 70-watt2 power savings per CPU in optimized power mode with minimal performance loss, and a 52% to 66% lower TCO3.
¹ Geomean of following workloads: RocksDB (IAA vs ZTD), ClickHouse (IAA vs ZTD), SPDK large media and database request proxies (DSA vs out of box), Image Classification ResNet-50 (AMX vs VNNI), Object Detection SSD-ResNet-34 (AMX vs VNNI), QATzip (QAT vs zlib)
² 1-node, Intel Reference Validation Platform, 2x Intel® Xeon 8480+ (56C, 2GHz, 350W TDP), HT On, Turbo ON, Total Memory: 1 TB (16 slots/ 64GB/ 4800 MHz), 1x P4510 3.84TB NVMe PCIe Gen4 drive, BIOS: 0091.D05, (ucode:0x2b0000c0), CentOS Stream 8, 5.15.0-spr.bkc.pc.10.4.11.x86_64, Java Perf/Watt w/ openjdk-11+28_linux-x64_bin, 112 instances, 1550MB Initial/Max heap size, Tested by Intel as of Oct 2022.